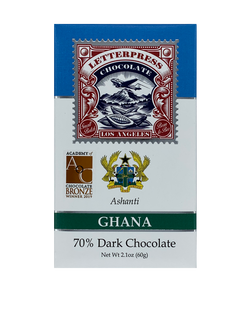 Letter Press 70% Ghana
PRODUCER Letterpress   |   TYPE DARK
CACAO % 70   |   NET CONTENTS 2.1oz  
CACAO ORIGIN Ghana
MAKER COUNTRY USA   |   MAKER STATE California 
INGREDIENTS: Cacao Beans, Organic Unrefined Cane Sugar, Organic Cocoa Butter.
ALLERGY INFO: Processed in a facility that also processes nuts and dairy.

NOTES: Ashanti is a cocoa growing region of Ghana that has been plagued with slave labor and poor prices for farmers. Thanks to The Ghana cocoa Board, we have secured cacao which we've paid twice the commodity price tp help farmers make a living wage. Established on 1947, The Ghana Cocoa Board (COCOBOD) has been training farmers to help protect the environment as well as nature sustainable agroforestry systems.
AWARD: Academy Chocolate Bronze Winner 2019.