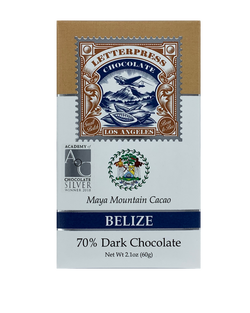 Letter Press 70% Belize
PRODUCER Letterpress   |   TYPE DARK
CACAO % 70   |   NET CONTENTS 2.1oz  
CACAO ORIGIN Belize
MAKER COUNTRY USA   |   MAKER STATE California 
INGREDIENTS: Organic Cacao Beans, Organic Unrefined Cane Sugar.
ALLERGY INFO: Processed in a facility that also processes nuts and dairy.

NOTES: Maya Mountain Cacao sourcees premium cacao beans from smallholders Belizean farmers for chocolate markers. In late 2014, Letter Press Chocolate contributed to Maya Mountain Cacao's Kickstarter campaign which directly helped to plant over 4,000 hardwood and cacao trees in their demonstration farm. Maya Mountain Cacao was given Heirloom status by the FCIA in 2015. This bar is the direct result of over two years of planning. We're excited to finally bring to you.
AWARDS: Academy Chocolate Silver Winner 2018.