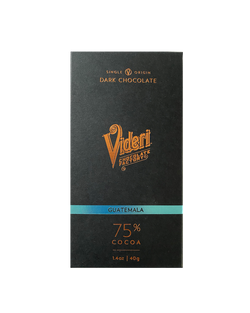 Videri 75% Guatemala
PRODUCER Videri |   TYPE DARK
CACAO % 75  |   NET CONTENTS 1.4oz
CACAO ORIGIN Guatemala
MAKER COUNTRY USA   |   MAKER STATE North Carolina
INGREDIENTS: Organic Roasted Cocoa Nibs, Organic Cane Sugar.
ALLERGY INFO: Made in a facility that is nut free, soy free, gluten free, egg free and corn free.
NOTES:  Caramel and citrus flavors come through this 75% cocoa bar made from Guatemalan chocolate beans. As do happiness and a general feeling of well-being.