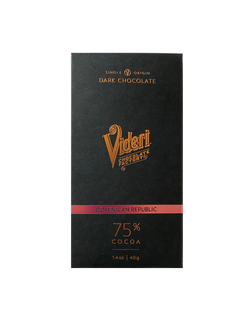 Videri 75% Dominican Republic
PRODUCER Videri |   TYPE DARK
CACAO % 75  |   NET CONTENTS 1.4oz
CACAO ORIGIN Dominican Republic
MAKER COUNTRY USA   |   MAKER STATE North Carolina
INGREDIENTS: Organic Roasted Cocoa Nibs, Organic Cane Sugar.
ALLERGY INFO: Made in a facility that is nut free, soy free, gluten free, egg free and corn free.
NOTES:  Discerning palates will pick up on the taste of roasted cherries and walnuts we're putting down in this 75% dark Dominican chocolate.