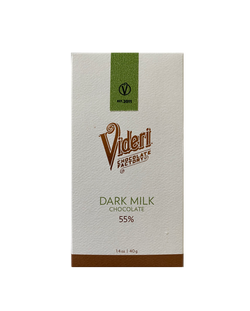 Videri 55% Dark Milk
PRODUCER Videri |   TYPE Milk
CACAO % 55  |   NET CONTENTS 1.4oz
CACAO ORIGIN Guatemala
MAKER COUNTRY USA   |   MAKER STATE North Carolina
INGREDIENTS: Organic Roasted Cocoa Nibs, Organic Cane Sugar, Organic Cocoa Butter, Organic Whole Milk Powder.
ALLERGY INFO: Made in a facility that is nut free, soy free, gluten free, egg free and corn free.
NOTES:  This 55% Dark Milk chocolate is made with Guatemalan cocoa beans. It's the perfect blend of dark and milk chocolate: rich and chocolatey, but also sweet and creamy!