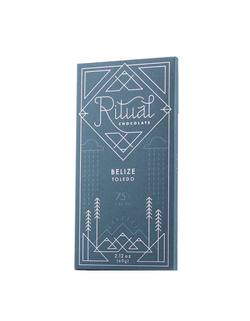 Ritual Belize 75%
PRODUCER Ritual   |   TYPE DARK
CACAO % 75   |   NET CONTENTS 2.12oz  
CACAO ORIGIN Belize
MAKER COUNTRY USA   |   MAKER STATE Utah
INGREDIENTS: Organic Cacao, Organic Cane Sugar.
TASTE NOTES: Dried Fig, Cherry, & Tobacco.
ALLERGY INFO: May contain traces of peanuts, tree nuts and wheat.
NOTES: Made with organic cacao that is grown by a network of Mayan farmers in the Toledo district of Belize. This chocolate has an incredible balance of fruity, earthy, and nutty flavors, thanks to a complex genetic makeup of the growing region.
AWARDS: Academy of Chocolate, 2018 Silver