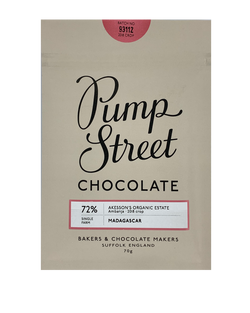 Pump Street 72% Madagascar
PRODUCER Pump Street   |   TYPE DARK
CACAO % 72  |   NET CONTENTS 2.47oz  
CACAO ORIGIN Madagascar
MAKER COUNTRY UK  
INGREDIENTS: Organic Cacao Beans, Cane Sugar, Organic Cocoa Butter.
ALLERGY INFO: Made in a facility that processes Milk, Gluten and Nuts.
NOTES: A dark chocolate bar packed with flavour brought out of the fruity Madagascan beans. This chocolate has high notes of citrus mellowing into tropical fruits and ending with balanced acidity. Bean to bar chocolate handmade in Suffolk, UK.