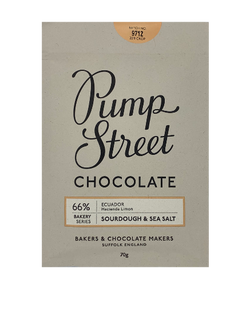 Pump Street 66% Ecuador Sourdough and Sea Salt
PRODUCER Pump Street   |   TYPE DARK
CACAO % 66   |   NET CONTENTS 2.47oz  
CACAO ORIGIN Ecuador
MAKER COUNTRY UK  
INGREDIENTS: Cacao Beans, Cane Sugar, Organic Cocoa Butter, Breadcrumbs (Wheat), Sea Salt.
ALLERGY INFO: Made in a facility that processes Milk, Gluten, and Nuts.
NOTES: A unique combination of two signature bars: dark chocolate and sourdough. This sourdough crumbs and a touch of sea salt add crunch and a malty flavor to the Ecuadorian chocolate.