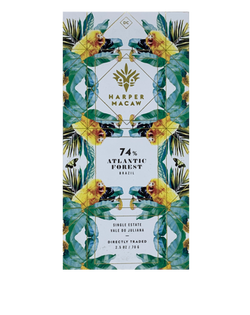 Harper Macaw 74% Brazil
PRODUCER Harper Macaw   |   TYPE DARK
CACAO % 74  |   NET CONTENTS 2.47oz  
CACAO ORIGIN Brazil
MAKER COUNTRY USA   |   MAKER STATE Washington D.C.
INGREDIENTS: Organic Cocoa Beans, Cane Sugar, Cocoa Butter.
ALLERGY INFO: Possible traces of Milk, Peanuts and Tree Nuts.
NOTES: This chocolate is a force for rainforest conservation. They source these cocoa beans from Brazil's Atlantic and Amazon Rainforests - two of earth's most critically threatened biomes. by savoring this chocolate bar, you restore and permanently protect a plot of vulnerable land near our sources.