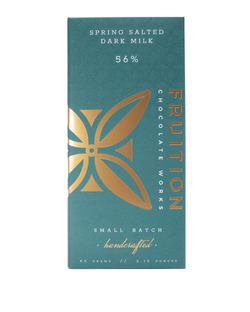 Fruition Spring Salted Dark Milk 56%
PRODUCER Fruition   |   TYPE Dark Milk
CACAO % 56   |   NET CONTENTS 2.12oz
CACAO ORIGIN Peru
MAKER COUNTRY USA   |   MAKER STATE New York
INGREDIENTS: Organic Cocoa Beans, Organic Cane Sugar, Whole Milk Powder, Cocoa Butter, Salt, Whole Vanilla Beans
ALLERGY INFO: Contains Dairy.  May contain traces of nuts.
NOTES: Straddling the line between light and dark, this bar is accentuated by the addition of Peruvian warm spring salt*
*Peruvian salt is sourced from Salt of the Earth Co., a company that donates a portion of its proceeds to Peruvian charities, including the Corazon de Dahlia Community Development Center near Cusco. For more information, please check out Salt of the Earth Co.
AWARD: Good Food Award Winner