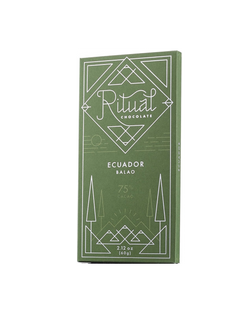 Ritual Ecuador Camino Verde 75%
PRODUCER Ritual   |   TYPE DARK
CACAO % 75   |   NET CONTENTS 2.12oz  
CACAO ORIGIN Ecuador
MAKER COUNTRY USA   |   MAKER STATE Utah
INGREDIENTS: Cacao, Organic Cane Sugar, Organic Cocoa Beans.
TASTING NOTES: Graham Cracker, Honey & Fudge.
ALLERGY INFO: May contain traces of peanuts, tree nuts, and wheat.

NOTES: Made with cacao that is carefully fermented and dried by Vicente Norero of Camino Verde in Ecuador and has a distinguishable, rich, chocolatey flavor. Tasting notes of graham cracker, honey, and fudge.
AWARDS: Academy of Chocolate, 2018 Bronze