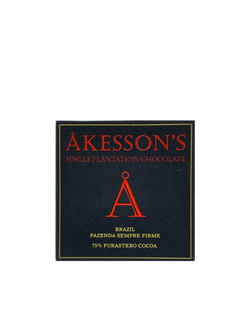 Akesson's 75% Brazil Dark
PRODUCER Akesson's   |   TYPE DARK
CACAO % 75   |   NET CONTENTS 2.12oz
CACAO ORIGIN Brazil
MAKER COUNTRY France
INGREDIENTS: 75% Organic Cocoa Beans, Organic Cane Sugar, Pure Organic Cocoa Butter.
ALLERGY INFO: May contain traces of nuts, almonds, soy, milk and gluten.
NOTES: In April 2009, Bertil Akesson Jr. and his Brazilian partner Dr. Angelo Calmon de Sa. purchased the historic Fazenda Sempre Firme in Bahia, Brazil. This 120 ha cocoa plantaion is right in the middle of the Mata Atlantica, the wild forest with the highest biodiversity on earth. They were able to recreate a socail structure and their best reward is to hear the community referring to the Fazenda as a "Paraiso" (paradise). They are growing there the traditional and astonishing forastero cocoa variety called "parasinho" that made the glory of Bahia at the beginning of the 20th century. The chocolate we developed from these beans is smooth, woody and earthy. it has also expressive notes that evoke autumn scents, tobacco and the local pitanga fruit.