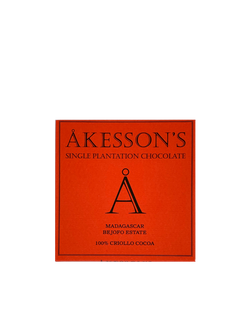 Akesson's 100% Madagascar Dark
PRODUCER Akesson's   |   TYPE DARK
CACAO % 100   |   NET CONTENTS 2.12oz
CACAO ORIGIN Madagascar
MAKER COUNTRY France
INGREDIENTS: 100% Organic Cocoa Beans, Organic Cocoa Butter.
ALLERGY INFO: May contain traces of nuts, almonds, soy, milk and gluten.
NOTES: Located in the Sambirano Valley, near Ambanja, in the North-West of Madagascar, Bertil Akesson's estate spreads over about 2000 ha. Since 1920, world famous aromatic cocoa and spies are produced there and today most of the top chefs and chocolate makers around the worlsd use cocoa from this estate, the only in Madagascar produced designated Heirloom cocoa. Besides 300 tons of Trinitario cocoa produced every year, a very limited quantity of Criollo beans - 2 tons per year - is harvested separately to make this chocolate. It has a very expressive cocoa aroma with subtle fruity-sweet tartness and pleasant flavor notes that evoke citrus and red berries.