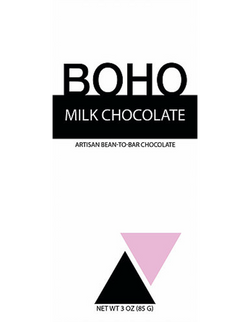 Boho Milk Chocolate
PRODUCER Boho   |   TYPE DARK MILK
CACAO % 70   |   NET CONTENTS 3oz
CACAO ORIGIN South American Blend
MAKER COUNTRY USA   |   MAKER STATE Massachusetts
INGREDIENTS: Organic Cane Sugar, Organic Cacao Beans, Organic Cocoa Butter, Organic Milk.
ALLERGY INFO: Manufactured in a facility that also processes tree nuts, peanuts, milk, and wheat on shared equipment.
NOTES: For the true small-batch, chocolate milk fan, Boho's own rendition features organic cane sugar, organic cocoa butter, nonfat milk, and organic cacao beans. Boho selects only the finest organic cacao beans which are carefully roasted, winnowed, and stone ground to perfection in their workshop.